High Visibility Vest - Safety Garment Testing
Friday, 10 December 2021
Hi-Visibility Safety Garments testing to AS 4602.1:2011 (+A1:2016 & A2:2020).
Safety is of paramount importance to everyone in the workplace, after all, we all want to head home at the end of the day. In areas involving high risk activities, such as on the working on the road, on building sites and in warehouses, increasing the ability to see fellow workers by the use of colour and light reflection to improve visibility is an accessible preventative tool to reduce that risk. It has become a common sight in workplaces and the use of high visibility garments have now extended to involve many daily activities. They are readily available through many retails sites, but do all the garments out there actually do what they claim to do?
In order to provide consistency in the Australasian market, AS 4602.1:2011 outlines strict design, fabric colouration and labelling requirements for these garments. This specification has been amended twice, the first time in 2016 and then most recently in 2020.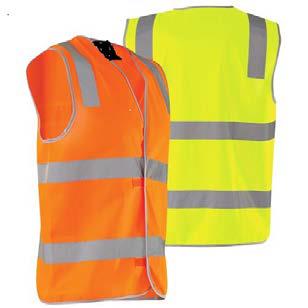 Three types of garments are specified.
CLASS D
These garments are designed for DAY TIME use only. AS/NZS 1906.4-2010, Section 2 is specified to denote acceptable background colours. Generally, colours are fluorescent (Class F), however some natural fibres cannot meet the luminance requirements of Class F. These products are classified Class NF and have reduced luminance requirements. This classification is specific to these fabrics types, and it is important for wearers to acknowledge that visibility can be lower than when Class F fabrics are used, and select garment type in line with the risk involved. To ensure high visibility a minimum area of Class F / Class NF background fabric is specified, and it must continue around the circumference of the garment.
CLASS N
These garments are designed for NIGHT time use only. The background colour is not specified, but the garment will require retroreflective tape, applied in specific configurations. Tape configurations may not be broken. The requirements for the tape to be used are specified in AS/NZS 1906.4-2010, Section 3.

CLASS DN
These garments can be used for DAY & NIGHT use, and are the most commonly available. The design is required to take into account tape design restrictions of Class N and the amount of high visibility material required in accordance with Class D. The tape may break through the high visibility fabric, however, the retroreflective taping must be continuous.
Whether you are involved in manufacturing, importing, retailing or purchasing high visibility garments, the expert team at AWTA Product Testing can provide NATA accredited testing for fabric, retroreflective tape and garment assessments in accordance with AS 4602.1:2011 (+A1:2016 & A2:2020).

CONTACT US:
For further information on High Visibility Testing or pricing on the above tests - please contact us on:
PH: 03 9371 2400 or Email: producttesting@awta.com.au